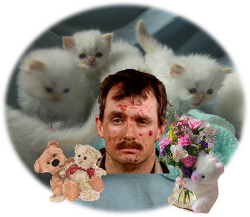 Get those dollar bills rolled and your kits out of you socks, because Jamestown, California has been chosen as the next location for this years Methamphetamine Roundup, a celebration of the use and abuse of methamphetamine and methamphetamine culture occurring this September 14th to the 16th.
"This really going to put Jamestown on the map.", said tattoo clad resident Troy Andrews, "It a real honor to have the Methamphetamine Users and Cookers Association of Central California right here in Tuolumne County. I heard that Oakland and Stockton were in the running, but I think that Jamestown has what it takes to delver the goods. We got the best cookers, the best users, the best product and the best crew in the world."
Events include a black tie luncheon featuring keynote speaker noted Methamphetamine poet Michael Hobarton, the renowned Meth Cook Off, and a performance by Rapper Vanilla Ice.
Also in store for the roundup are multiple seminars and events for dealers, producers and users.
Here a short list of what's in store:
Cookers Secrets
Selling meth in a saturated market
Minimize your crash with pomegranate
Just stop picking at it
Child protective services: a blessing in disguise
Dealing to children and the mentally ill
Your fetus and meth
When is your ho too skinny?
Procuring chemicals in an ever tightening supply chain,
Mexican drug cartels: friend or foe?
Bribes and local law enforcement: sex or money?
And the world famous Meth Cook-off!
Though the carnival-like atmosphere of the event emphasizes the most positive aspects of the drug, the world of meth production may not be as rosy as some claim. With the war on drugs always busting California meth labs, Mexican made meth has been rapidly taking over the market.
Hub McClintock, owner of The Motherlode Tattooery and co-organizer of the event had this to say, "You know, part of [this event] is to promote our vibrant, diverse, local meth culture, but it also has a humanitarian message. You know, a lot of our local cookers have been put out of business by cheaper and higher quality crank from Mexico. Think about it. You got the cooker, his friends and family, and countless crank ho's that count on the income. The DEA and local law enforcement have basically taken that all away and, for all intents and purposes, shipped that work to Mexico. The crank's still gets here, but the money flows out of the country . We should keep that money in our area and stop busting meth labs."
Mr Mclintock gose on to say, "Meth users shop at Wal-Mart, eat fast food, buy chemicals at the hardware store and stimulate the economy just like any other law abiding person. Just because someone cooks or uses speed, shouldn't make them a criminal. Meth is a totally natural, harmless drug. In fact, many people don't realize that Ben Franklin invented methamphetamine and that many former presidents snorted speed every day, including Andrew Jackson and George Washington. In fact, when the aliens land to use their Holy mind beams to cure me of all the bugs crawling under my skin, you'll all see! You'll see that it's our right as American citizens to cook and use methamphetamine!"
Well there you have it. Don't miss an exciting, twitchy moment. We'll see you at the Meth Roundup in Jamestown!